WHAT IS STEM OR STEAM? 
STEM stands for Science Technology, Engineering, & Math and  STEAM stands for Science, Technology, Engineering, Arts and Math. With continued advancement in science & technology,  it is important that our youth are prepared to meet the need of the growing science and technology workforce. Inquiry based and project based STEAM learning helps children to develop their science, technology, engineering, arts and mathematics skills by solving practical, real world problems. What's more important is that it promotes critical thinking, problem solving, and collaboration.
Research conducted by Microsoft Corporation has shown that 4 out of 5 STEM college students had decided to study STEM in high school or earlier and 1 in 5 decided in middle school or earlier. However, only 1 out of 5 STEM college students feel that their K–12 education prepared them extremely well for their college courses in STEM.
STEAM is an educational approach to prepare the next generation for the future job market. According to Education Commission of the States, between 2017 and 2027, STEM related job will grow 13% in comparison to non-stem jobs which will grow by only 9%.
SCIENCE
TECHNOLOGY
ENGINEERING
ARTS
MATH
WHAT IS A STEAM PLAYZONE?
For Ages 7-12
In today's technology/STEAM focused world, Futurelink is always in search for innovative ideas to bridge the gap between education and industry to prepare our youth for the future.
Futurelink's STEAM PlayZone is a ground-breaking, all-in-one innovation that links education and fun together while inspiring our youth for success in the future with a safe, structured, and healthy environment. This one of a kind unique indoor PlayZone is created for members to explore and experience STEAM (Science, Technology, Engineering, Art, and Math) concepts with interactive demonstrations and hands-on activities and games. This is a great way to expose children to STEAM subjects.
Futurelink's STEAM PlayZone focuses on an inquiry-based & project based interdisciplinary hands-on learning approach. Kids of ages 7-12 not only have fun with this hands-on approach, but they also learn STEAM concepts while creating projects and participating in experiments. At Futurelink's STEAM PlayZone, our unique hybrid educational approach not only feeds the curiosity of  young minds but also encourages them to explore the concepts further by connecting the dots across disciplines.  Our students not only enjoy learning but get inspired to explore more while having fun.
Futurelink's STEAM PlayZone activities are carefully designed by Futurelink management and staff. Our enthusiastic subject expert STEAM coaches work collaboratively to prepare each project and activity. Our unique learning approach helps students:
Improve critical thinking skills
Foster curiosity and love for learning
Learn collaborations and team-building
Learn much needed problem-solving skills
Understand cross connecting interdisciplinary concepts
Deepen the understanding of concepts beyond memorizing facts and information
Nurture passion and telnet by encouraging them to explore further
Develop strong research skills
Learn to ask right questions
WHY IS STEAM SO IMPORTANT?
According to Pew Research Center, individuals in STEAM related careers earn more than those in non-STEAM careers.  With the growing technology field and advancement of Artificial Intelligence (AI) and automation, problem solving, critical thinking, collaboration, and leadership skills will be critical for future.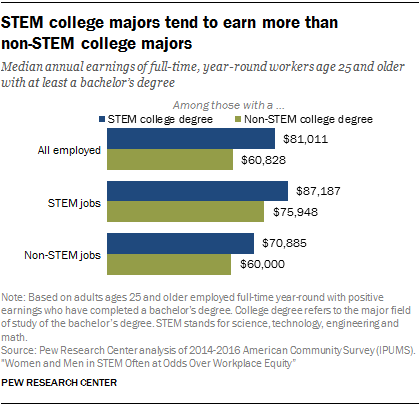 Get your STEM Playzone Club hourly passes or STEM PlayZone club membership today  to empower & prepare your child  for the future with STEM!!!
NOTE: Visitors are required to have STEM PlayZone hourly passes or STEM PLayZone Club memberships to enjoy our one of a kind STEM PlayZone.  Due to the capacity requirement, we request all visitors to make reservations for specific timeslot 24hrs. in  advance to secure the spot. Please visit our Rules and Policies pages for further information.